100% clean comedy entertainment that breaks the ice, grabs the audience's attention, and brings people together for a successful event. This show will delight audiences of all ages and make any event fun and memorable. 
Lyndy is an expert at bringing people together with laughter. You get amazing and amusing entertainment without the worry of offensive humor or profanity.
After a great meeting, conference, or convention, your group will be ready to relax, laugh, and be entertained. Or for your annual luncheon/banquet, your group will enjoy Lyndy's impromptu humor as he performs mind-boggling sleight of hand with a twist of humor. With Lyndy, your group will:
Laugh out loud, be amazed, and leave happy.
Join Lyndy onstage and become stars of the show.
Be entertained and make memories.
Amusement
From parasailing behind a '69 Ford pickup (yes, you read that right) to raising kids, Lyndy tells some of the funniest stories that are both true and well... just plain funny. Listen and laugh at how Lyndy was snake-bit by a chair, quoted the wrong verse when trying to impress the girls, and many, many more.
Amazement
No big illusions. No big stage. No complicated riders. Just simple sleight of hand with everyday objects that will astonish a crowd of 15 to 1500. Get ready to laugh and be amazed as Lyndy does the impossible with money, cards, ropes, eggs, balloons, and more. Your group will go on a humorous magical journey that begins with a silver dollar he's owned since 1974 and continues with objects vanishing, re-appearing, cut and restored, multiplied, transformed, and more. Being a one-man show, Lyndy relies on members of the audience to assist him with his sleight of hand and illusions. Your group will laugh-out-loud as their peers join Lyndy onstage and become stars of the show, leaving everyone with memories that last a lifetime.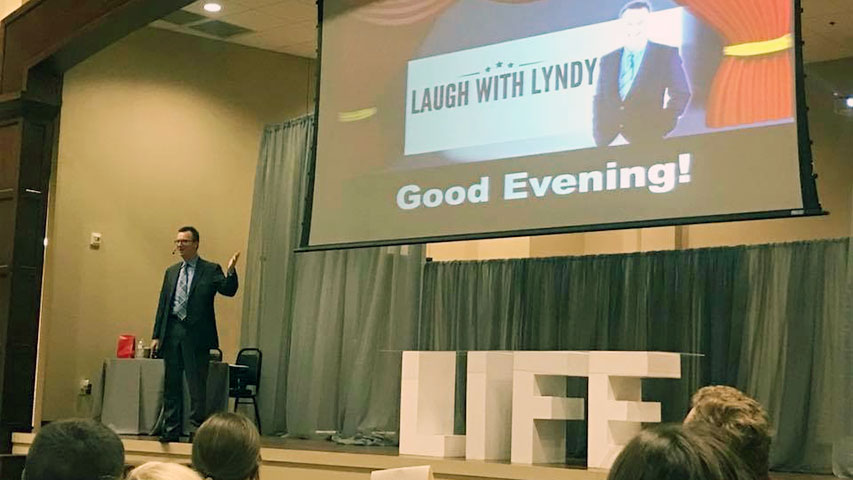 Christian comedian in Corsicana, TX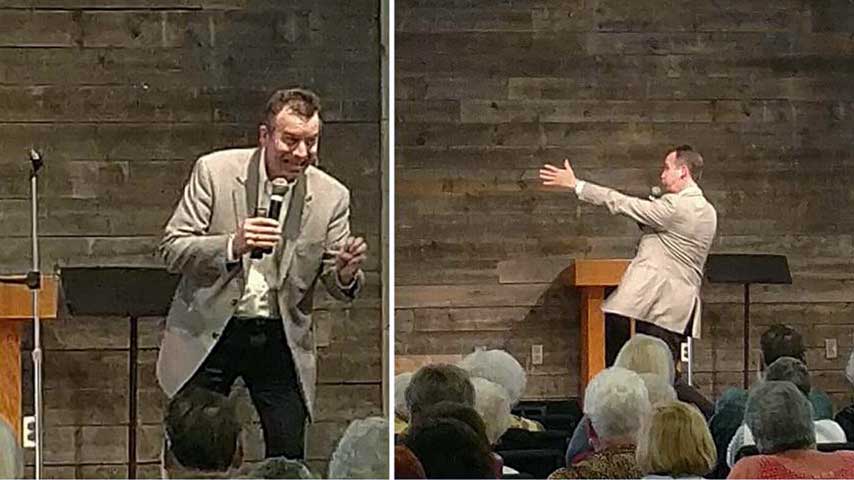 Christian comedian in Wichita Falls, TX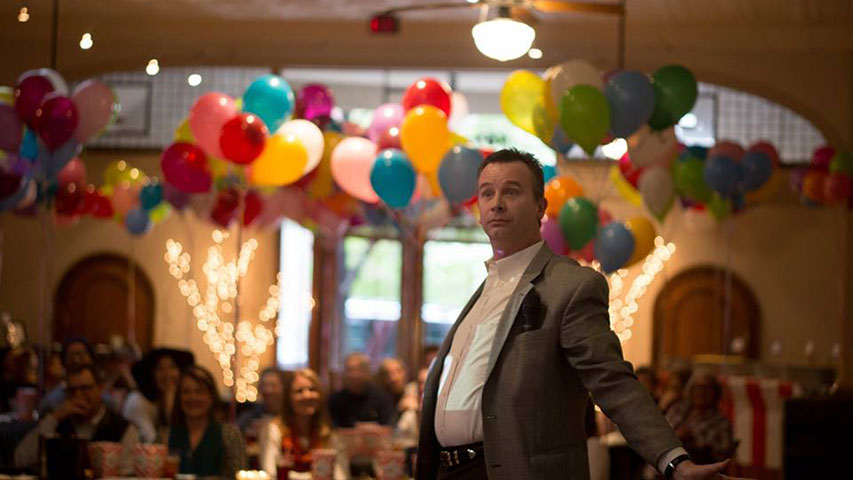 Christian comedian in Amarillo, TX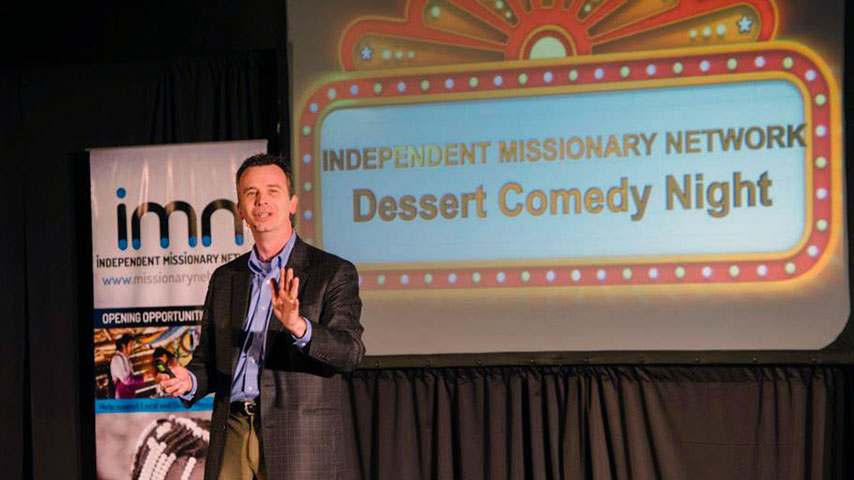 Christian comedian in Portage, IN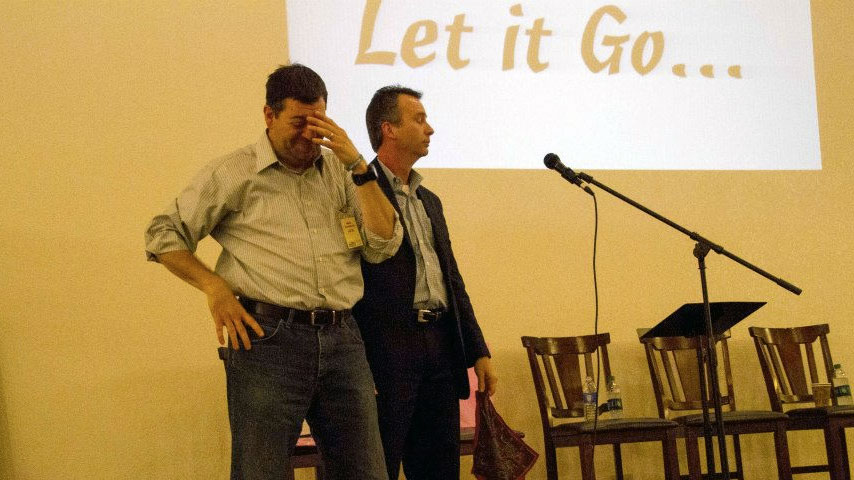 Christian comedian in Elberta, AL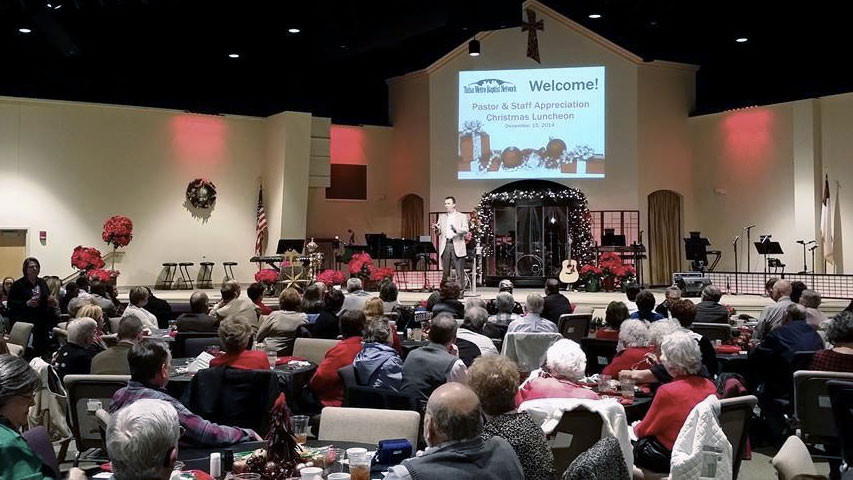 Christian comedian in Tulsa, OK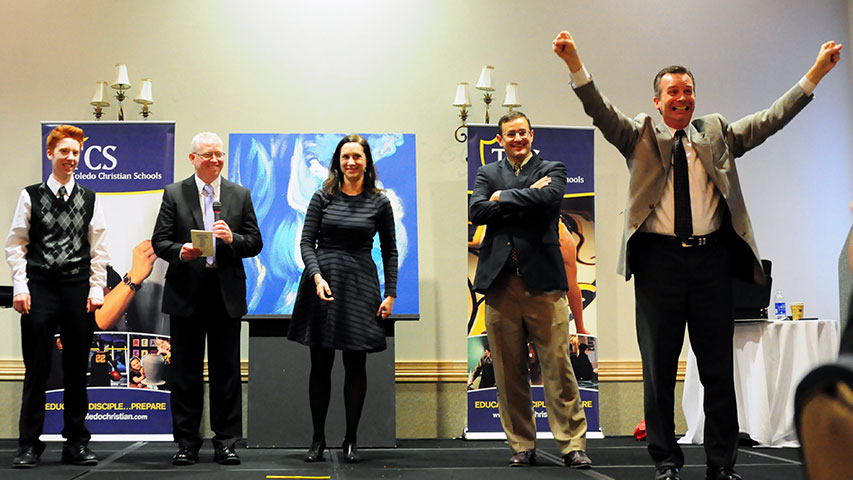 Christian comedian in Toledo, OH
Recent Reviews
"Things were great. Lyndy had the audience laughing for over an hour."
"Lyndy does a great job helping us to experience joy and laughter along with bringing Christ into the center of his program. He does not poke fun AT people but finds the humor in our daily living. If you want clean fun Lyndy is your man! The audience was extremely receptive to Lyndy. They just roared and roared! I wish more Christian comedians would follow in Lyndy's footsteps!"
"Lyndy was an outstanding entertainer at our Adult Bible Fellowship dinner! His combination of comedy, magic acts, interaction with the audience, and video presentations kept the audience smiling and laughing, at times uncontrollably! Everyone loved his wit and charm and those he called on the stage were delighted (even when being made fun of!). I highly recommend Lyndy when you need clean and wholesome entertainment!"
"Lyndy was exceptional and a very talented entertainer. We had several comments about how wonderful and entertaining he was and about how our guests have talked about him to others. However because their heartstrings were not pulled and his message did not connect back to Hope Center's ministry as much our guests are use to they did not give as much as in years past. I do not think this is a fault of Lyndy's just something we will have to look at as an organization. Do we seek entertainment or do we seek a speaker connected to the ministry."
"Lyndy was incredible and did a great job"
"Lyndy was fantastic. Our people loved him. Several have said they want to book him for other events, either at our church or at their businesses or associations. I'm sore from laughing so hard."