Arthur delivers skill-based, fast-moving, intriguing, and astonishing sleight-of-hand magic and mentalism. His comedy magic show is packed with feats of the impossible, audience participation, smart humor, and tricks no others perform. It is a positive, inspiring, and unforgettable experience.
Magic
Tricks with cards, coins, borrowed watches, and rings highlight a performance filled with audience participation and true entertainment. Coins vanish and reappear, a comedy of errors occurs with audience members watch bottles appear out of nowhere (only to magically come back together in an impossible place), and, if permissible, fire is eaten like a snack!
Mentalism
Performing the impossible, Arthur presents a demonstration of "mentalism" or "mind-reading" that will have your group talking long after the show. He reveals audience member thoughts and makes predictions that prove true. Arthur performs these amazing feats using psychology, "sleight of mind", and mental misdirection. The result is profound and thought provoking.
Humor
Arthur's use of humor throughout every show is clean, quick, sophisticated, engaging, and non-offensive. Comedy occurs as a result of the situations which unfold during the course of each performance! Audience members are always involved, but never insulted or embarrassed (well, not too bad anyway!).
Motivation
Arthur has extensive experience in stress management and anxiety relief. He spent seven years as a magical laughter therapist for a hospital in Silverton, Oregon. His job was to bring laughter, humor, and wonder to patients who were under severe stress due to the procedures they anticipated and the anxiety of being in a hospital. Arthur used humor and sleight of hand magic to illustrate and facilitate a healthy mindset of being in the moment, experiencing wonder, and utilizing laughter to relieve stress and bring in joy. During his seven years at the Hospital, Arthur also taught therapeutic breathing to those who struggled with anxiety and pneumonia.
Arthur comes from humble roots. Raised on a small farm in rural Oregon, his family has been in the dairy industry for over a century. Arthur lived and loved the farm life: milking cows, bucking hay, moving irrigation lines, harvesting crops, and driving combines. As a young boy, he saw his first magic show at a local fair and held that fascination into adulthood.
Arthur currently resides in Atlanta, GA with his wife and six children.
Christian comedian in Waymart, PA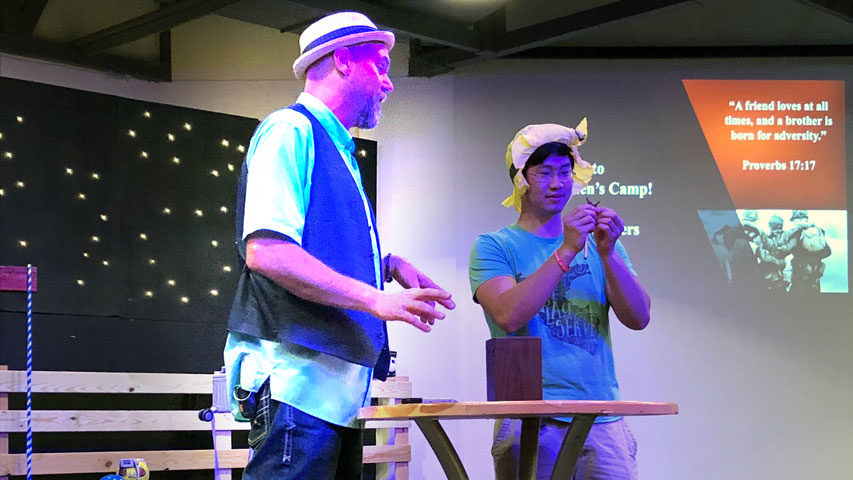 Christian comedian in Richardsville, VA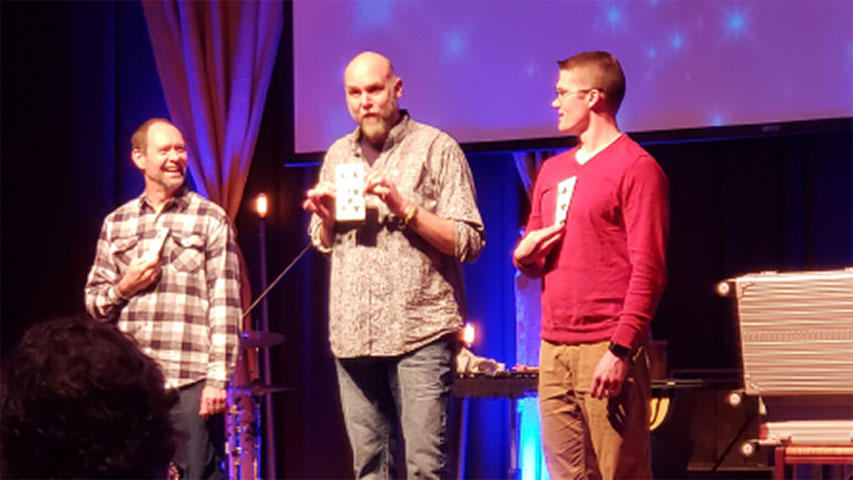 Christian comedian in Kennesaw, GA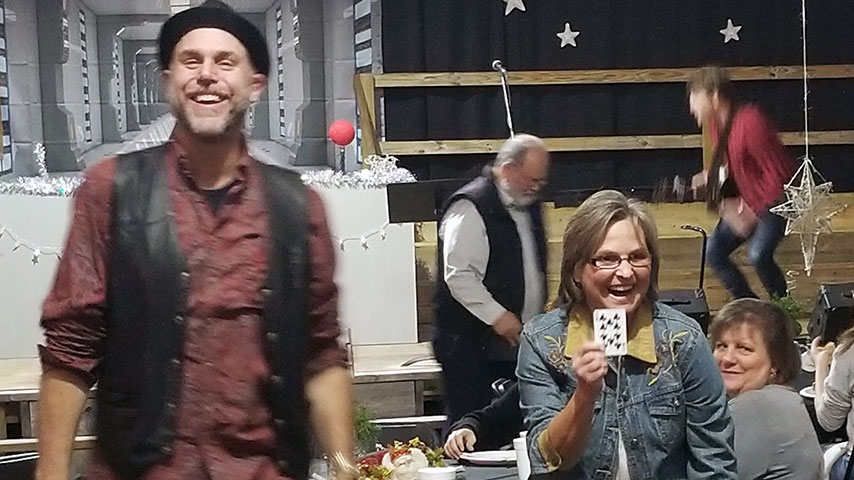 Christian comedian in Beaufort, SC
Recent Reviews
"If I could give more than 5 stars I would. Arthur connected with the audience in a way that everyone was stunned and amazed as well as spiritually moved by his sharing. I would for any Salvation Army officers : Men's camps / ARC Regional Retreats book him. You will not be disappointed but thrilled that you were able to secure him for your event. Men from my ARC are still talking about him a week later!!!! Professional, easy to work with, and just a great guy!"
"I cannot tell you how amazing everything went - words simply will not do it justice! God did an amazing work in and through all that were in attendance, and Arthur's participation was a huge part of it (both in his show, and outside of it as well)! Those that were in attendance for Arthur's performance were both highly entertained as well as ministered to through his openness to the leading of God. I will highly recommend him to anyone that I hear needs someone like him!"
"What an absolutely amazing thing your company has with Arthur!! He was incredible! But what I enjoyed most was, no one was a number; everyone in the crowd was somebody. He spoke to you like a person and was as down to earth as he could be. He presented an amazing salvation message while demonstrating it with magic tricks; which captivated everyone SO well! Overall, so thrilled we invited him. It was a phenomenal night! Will definitely be inviting him back!"
"Arthur was a delight to have perform for our Christmas Event. He fit in just like family, worked the crowd, gave an amazing performance, and gave us a wonderful surprise as he found a way to present the Gospel message through Magic. I would definitely recommend him to anyone who is looking or a guy who comes in as a performer, and leaves as a friend!"
"We had such an amazing time with Arthur. He was very engaging with everyone in the audience. We all had many laughs and are still mystified by the magic tricks. There were about 120 people in the audience and they were all talking about it at Mass on Sunday. We had several people call in to tell our Monsignor what a great time it was. Awesome!"
"Outstanding performer!!! Would highly recommend Arthur to any and all organizations, especially faith based ones that welcome the gospel message. Arthur had a wonderful, family friendly performance!!"